APAO Central Secretariat Unveiling Ceremony Successfully Held
Source: Zhongshan Ophthalmic Center
Written by: Wang Jiawei
Photo by: Wang Yongxing
Edited by: Wang Dongmei
On the afternoon of March 31, 2015, the Unveiling Ceremony of the New Central Secretariat Office of the Asia-Pacific Academy of Ophthalmology (APAO) was held in Zhujiang New Town Division of Zhongshan Ophthalmic Center (ZOC), Sun Yat-sen University (SYSU). Prof. Rajvardhan Azad, APAO President, Prof. Yizhi Liu, ZOC Director, Prof. Dennis Lam, President-Elect of APAO and Director of the State Key Laboratory of Ophthalmology (SKLO) at SYSU, and Prof. Clement Tham, Secretary-General and CEO of APAO, delivered a speech respectively and jointly unveiled the plaque of APAO Central Secretariat. The APAO Councilors and Presidents of APAO's member societies as well as ZOC leaders, a total of more than 60 people attended the unveiling ceremony.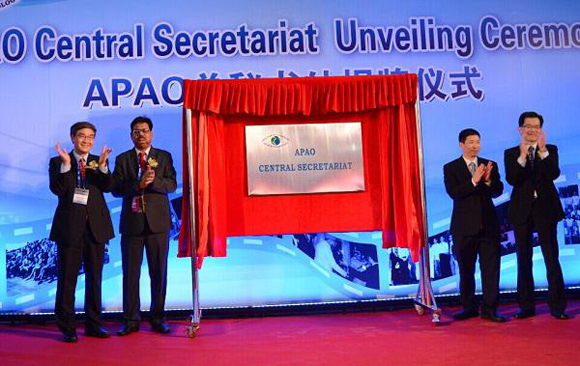 Prof. Rajvardhan Azad (second from left), Prof. Yizhi Liu (second from right), Prof. Dennis Lam (first from left), and Prof. Clement Tham (first from right) jointly unveiled the plaque.

On behalf of APAO, Prof. Rajvardhan Azad expressed gratitude to ZOC for its great support. He said that this relocation was an important decision made by APAO Councilors, and it would be a new starting point for the development of APAO.

Prof. Yizhi Liu thanked APAO for its trust and welcomed the APAO Central Secretariat team to move in. He said that ZOC would give full support, improve the hardware and software of the new facility, and contribute to the communication and academic exchanges in ophthalmology in the Asia-Pacific region and the world.
Prof. Dennis Lam said that the APAO Central Secretariat would make use of Guangzhou's geographical advantages, and continue to promote the development of ophthalmology and international ophthalmic education in its member societies and in the world.
Prof. Clement Tham thanked ZOC for providing a new "home" to APAO Central Secretariat. He believed that the Secretariat would develop in Guangzhou and play an important role in promoting research collaborations in ophthalmology in the Asia-Pacific region.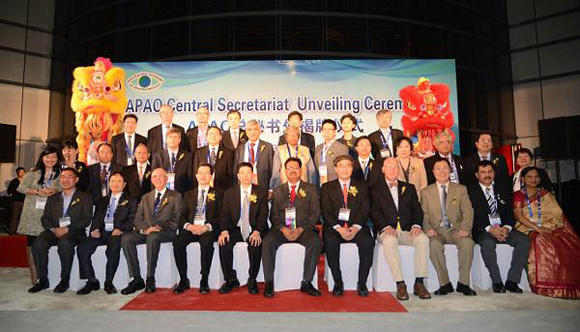 Group photo

APAO is the first international academic organization in medical sciences to set its headquarters in China. This marks a new milestone in the ophthalmic development in China. It will strengthen the connections between Chinese ophthalmologists and the international ophthalmic field. It will also make high-quality international ophthalmic services available to local people.