China–Egypt Ophthalmic Forum was successfully held in Zhongshan Ophthalmic Center, SYSU
Source: Zhongshan Ophthalmic Center of Sun Yat-sen University
Edited by: Liu Nian
To comply with The Belt and Road policy and to maintain the friendly relationship between China and Africa, Zhongshan Ophthalmic Center (ZOC), Sun Yat-Sen University, Guangzhou, China, held the China-Egypt Ophthalmic Forum on July 18, 2017, inviting two famous ophthalmologists, Prof. Tharwat H. Mokbel and Prof. Mervat S. Mourad from Egypt to give lectures and exchange academic ideas.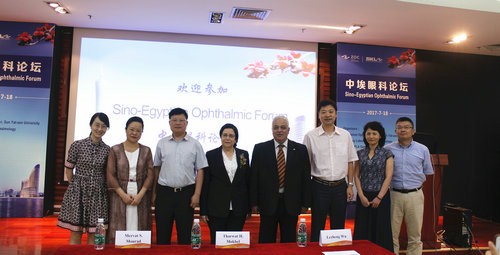 The forum was held at the lecture hall of ZOC and chaired by Prof. Xiulan Zhang, Director of Clinical Research Center. Prof. Junwen Zeng, Deputy Director of ZOC, gave the welcome remark before the forum. Prof. Dajiang Wang of Chinese PLA General Hospital, Prof. Danying Zheng, Prof. Zhigang Fan and Prof. Jingjing Huang of ZOC attended and gave lectures in the forum. Prof. Lezheng Wu , the Vice President of Afro-Asian Council of Ophthalmology (AACO) and the Former Director of the Eye Research Institute, ZOC , has made great contribution to the forum.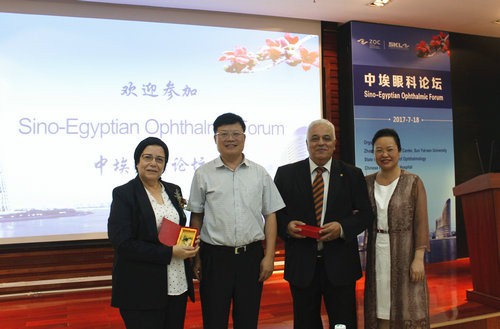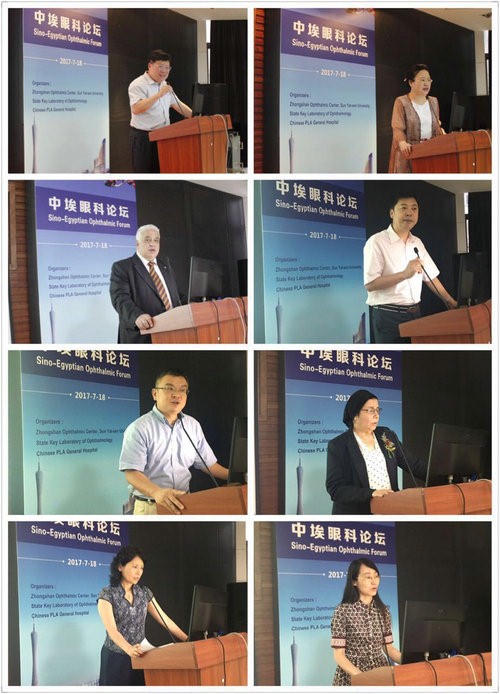 Professor Tharwat H. Mokbel is a distinguished ophthalmologist in Egypt, serving as the Vice President of Egyptian Ophthalmological Society (EOS), the former Director of Mansoura Ophthalmic Center–Mansoura University and the Vice President of Afro-Asian Council of Ophthalmology (AACO). He gave a wonderful lecture on "Advanced glaucoma: what's next?" in the forum, briefly introducing the status of glaucoma in Egypt and shared the experience of the diagnosis and treatment of glaucoma.
Prof. Mervat S. Mourad, the Vice President of the Egyptian Society of Cataract and Refractive Surgery, the first female President of the Egyptian Ophthalmology Society (2012-2014), and the Editor in Chief of The Journal of the Egyptian Ophthalmological Society, has also made an excellent speech on "Conventional versus torsional phacoemulsification in management of hard nuclei".
The outstanding professors of Zhongshan Ophthalmic Center and Chinese PLA General Hospital also gave splendid lectures in the forum. Both experts from China and Egypt shared and exchanged the new progress, new technology and other related issues on Ophthalmology. The content of the forum is so novel that the audiences have benefited a lot from the forum.