Lifeline Express / Zhongshan Ophthalmic Center Highlights of Paediatric Ophthalmology & Strabismus was successfully held at the Academic Hall in Scientific Research Building of ZOC
Source: Zhongshan Ophthalmic Center of Sun Yat-sen University
Edited by: Liu Nian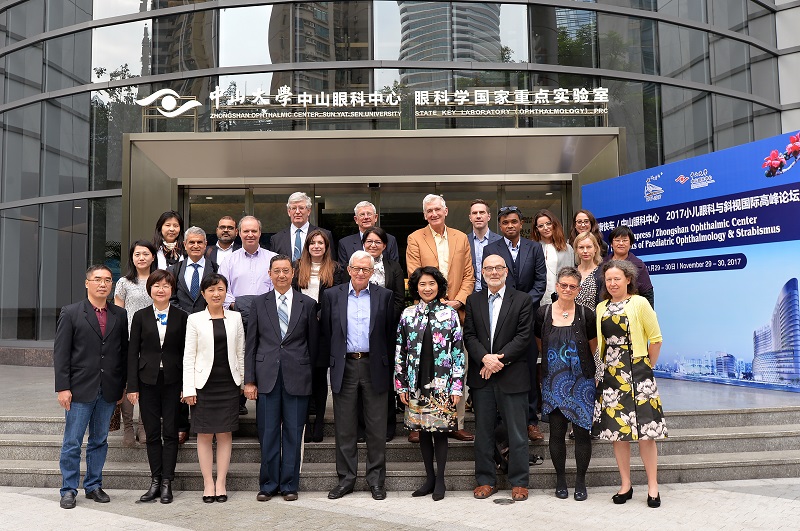 On 29-30 November, 2017, Lifeline Express / Zhongshan Ophthalmic Center Highlights of Paediatric Ophthalmology & Strabismus was successfully held at the Academic Hall in Scientific Research Building of ZOC. 17 foreign experts, who were from the United States, Australia and the United Kingdom, came to Guangzhou to participate a gluttonous feast of knowledge with ophthalmologists across the country. On the morning of the 29th, at the simple opening, Mrs. Nellie Fong, founder of the Lifeline Express Foundation, Prof. Xiaoling Liang, deputy director of ZOC, and David Taylor, the representative of foreign experts, delivered speeches successively for this forum. More than 200 ophthalmologists from all over China and ZOC have attended the forum.
At the forum, the experts shared the topics of pediatric ophthalmology and strabismus such as ROP, retinoblastoma, and strabismus in children. The talks were interesting but also scientifically rigorous, attracting all the audiences. They hungrily absorbed the knowledge and experience by listening, recording, and thinking. They put up with their questions and comments at the Q&A part and even at the break time. And the experts were all willing to share. On the other hand, there was a live streaming platform for those who couldn't attend the forum. They could join by the website. At the mean time, there were some translators to interpret the whole meeting include the slides, so that there was no gaps in communication.
This was the second consecutive year that Lifeline Express co-organized a grand international academic conference with ZOC. Overseas ophthalmologists were invited to come to China for academic sharing. Participants were appreciated it as a rare opportunity for them to have access to the experience of domestic with foreign experts and learn from them. Preventing and treating blindness and bringing bright to people were the missions of Lifeline Express and ZOC. This forum provided Chinese and foreign ophthalmologists opportunities for academic exchanges and promotion of professional ophthalmologists at all levels. It is ZOC's responsibility as a base for ophthalmology education and teaching.