Spreading Brightness and Delivering Friendship ----A Briefing of Medical Aid to Foreign Countries
Written by Xinyu Zhang, Cataract Department Edited by Xianjing Wei
I am Zhang Xinyu, an eye doctor from Guangzhou, South China. I'd like to share a story about a medical team from Zhongshan Ophthalmic Center of Sun Yat-sen University, a world class eye institute which is the biggest and best in China. The team, led by the provincial government, carried out bright journey eye camp around the world.
In 2013, our medical team arrived at Port Vila, the capital city of the south pacific island country of Vanuatu, for the first time. The scenery was beautiful, but the medical facility was primitive and time-worn. There were few resident eye doctors on the island. Yet there was a long waiting list of patients suffering blindness from cataract. By the time we arrived, the small clinic, an about one-hundred-square-meter bungalow was already packed with local patients who had heard the news. Among them, an old lady in a wheel chair caught our attention. She had severe diabetes, HT and heart disease, and had been blind from cataract for several years. Despite all the difficulties, our chief surgeon Dr. Chen Weirong performed a successful cataract surgery for her. The next day, when theeye-patch was removed, the blooming smile spreading across her face had been unforgettable for us till now. A year later, when we came to the island the second time, we saw a familiar figure waving to us from afar. It was the old lady. She had heard of the arrival of the Chinese medical team, so she came early, waiting at the clinic door for a long time, to express welcome and gratitude to the team. When we came to the island for a third time in 2017, the one who welcomed us was not the old lady but her daughter. She told us that her mother had passed away, but she left in peace with a smile, because she could see the road to paradise.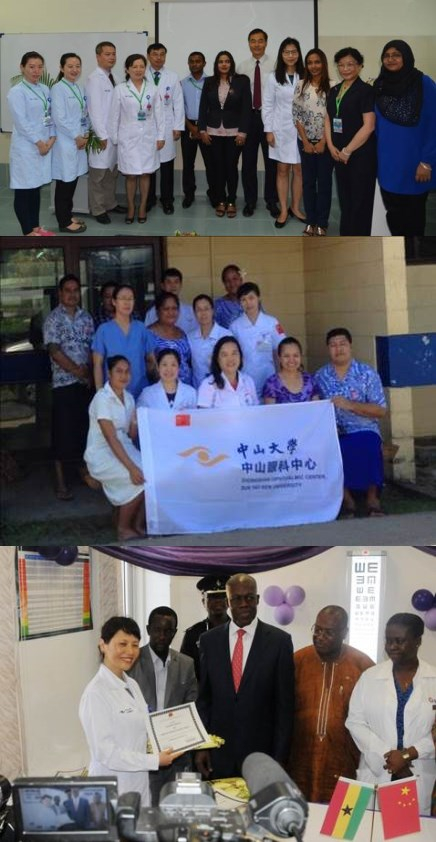 Over the past five years, stories like this, the joy of regaining vision, have been happening in the south pacific, Indian Ocean, and African countries where we have carried out the bright journey eye camp. So far our medical team has performed over 500 cases of cataract surgeries successfully. The bright journey eye camp has built a bridge for spreading brightness and delivering friendship. Starting from Guangzhou, the Cantonese doctors are taking fruitful actions along the belt and road.