Zhongshan Ophthalmic Center wins with bid to host the 11th China Stem Cell Congress in 2021
Resource: Ophthalmic Engineering Research Center
Written by: Peng Xiao, Ophthalmic Engineering Research Center
Proofread by: Jiawei Wang
Edited by: Xianjing Wei
The 9th Annual Meeting of China Stem Cell Conference was held on Sep 19th-21st in Tianjin, China. The Conference had invited more than 1000 top scientists and stem cell researchers to exchange the latest achievements in basic research and clinical aspects of stem cells.
On the evening of Sep 19th, the Council meeting of the Stem Cell Biology Branch of the Chinese Society for Cell Biology was convened. The meeting was presided over by Academician Qi Zhou, Academician Weizhi Ji and Academician Xiu Bian. More than 40 members of the Society attended the meeting. The host city and the host Institution for the 11th China Stem Cell Conference in 2021 was to be selected and decided. Professor Yizhi Liu, Director of Zhongshan Ophthalmic Center, Professor Jin Yuan and Jiawei Wang made an application to the Conference, bidding on behalf of Guangzhou.
Professor Liu introduced the development prospects of stem cell research in ophthalmology, the research achievements of the National Key Laboratory of Ophthalmology in the field of stem cell and the ability of Zhongshan Ophthalmic Center to host a high-level Conference. Professor Liu pointed out that stem cell research has brought new hope for functional regeneration of tissues and organs and is expected to become a new way to treat blindness and other eye diseases. The eye is an ideal organ for stem cell research and transformation and many stem cell technologies have been preliminarily applied to clinical treatment for eye diseases. With national attention and support, stem cell research has always been an important research direction for the National Key Laboratory of Ophthalmology at ZOC. He further pointed out that it was eagerly hoped that the Annual meeting of Chinese Stem Cell Congress could be hosted by Zhongshan Ophthalmic Center. It was hoped that the meeting would further promote the development, cooperation and clinical transformation of stem cell research in Guangdong Province. At the same time, it would take advantage of the National Development Strategy for the Guangdong-Hong Kong-Macao Greater Bay Area. By holding the meeting in Guangzhou, it was thought that it would definitely accelerate the construction of a stem cell research platform in Guangdong, Hong Kong and Macao and therefore strengthen academic exchanges and cooperation.
Eventually, after a vote by the members of the Council, Zhongshan Ophthalmic Center was selected to host the 11thChina Stem Cell Congress in 2021, which will be the first time that the National Stem Cell Academic Conference will be hosted by an ophthalmic institution. Academician Zhou pointed out that Guangdong is an important area for stem cell research in China. He hoped that the annual meeting held in Guangzhou would not only leave a footprint, but also effectively promote the vigorous development of local stem cell research, strengthen links between Guangdong, Hong Kong and Macao, and jointly open up a new journey for the healthy development of the stem cell industry in China.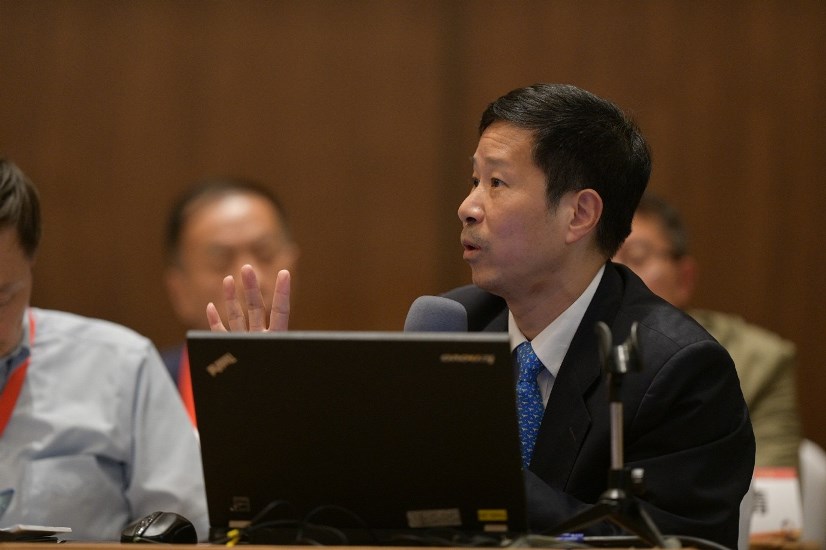 Professor Yizhi Liu at the meeting
Professor Yizhi Liu and Jin Yuan at the meeting