Release of Professor Xiulan Zhang's New Book: "Illustrated Surgical Techniques and Pearls of Glaucoma"
Source: Zhongshan Ophthalmic Center of Sun Yat-sen University
Edited by: Liu Nian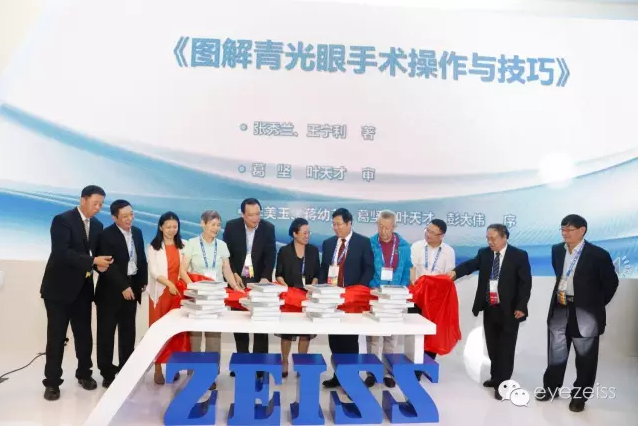 The Book launch of "Illustrated surgical techniques and pearls of glaucoma" authored by Prof. Xiulan Zhang, was held in Suzhou, Jiangsu province on September 8, during the 21st Congress of the Chinese Ophthalmological Society and the 5th Global Chinese Ophthalmology Academic Conference. Near 400 ophthalmologists attended the book launch. Many famous Chinese ophthalmology specialists including Ningli Wang, Youqin Jiang, Jialiang Zhao, Minbin Yu, Jian Ge, Tiancai Ye, Shihui Wei, Yuansheng Yuan, together with Proprietor and Editor in chief Xian Du and Editor Hongxia Liu of People's Medical Publishing House attended the ceremony and announced the launch of the book. Nearly 400 ophthalmologists came to join the ceremony from all over the country.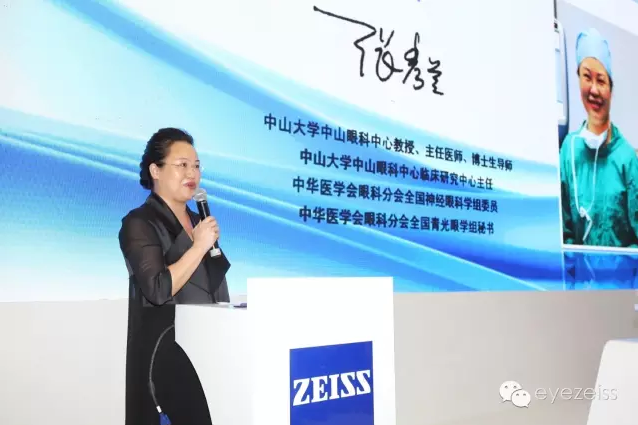 At the ceremony, coauthors Xiulan Zhang and Ningli Wang expressed their desire that they would, as always, spread the knowledge of glaucoma and contribute themselves to the career of glaucoma. Professor Jian Ge, Proprietor and Editor in chief Xian Du congratulated the authors in their speeches on release of the book and hoped this new book could come forth continuously as to make a contribution to the prevention and treatment of glaucoma in China.
Introduction of the book
The book "Illustrated surgical techniques and pearls of glaucoma" was written by Prof. Xiulan Zhang and Prof. Ningli Wang, reviewed by Prof. Jian Ge and Prof. Tiancai Ye. The preface was written by five famous Chinese predecessors and ophthalmology specialists Prof. Meiyu Li, Prof. Youqin Jiang, Prof. Jian Ge, Prof. Tiancai Ye and Prof. Dawei Peng. This book was officially published by People's Medical Publishing House and was funded by National Science and Technology Academic Publication Fund.
This book contains more than 2500 exquisite pictures and Q&A over 350 surgery-related clinical questions. 108 videos of glaucoma surgeries are attached with this book. Readers can scan the QR code to get access to online videos. The book is 210×285 mm in size with nearly 100 million words and color printed. It is a companion volume of the book "Illustrated Clinical Diagnosis and Treatment of Glaucoma", which is also written by Prof. Xiulan Zhang and Prof. Ningli Wang.
The book presents the skills of glaucoma surgery systematically and comprehensively. Keeping pace with times, it covers almost all the surgical techniques of glaucoma and describes variety of improvements and changes for each kind of surgery in details. The writing style is very unique. It not only describes diagnostic and therapeutic strategy in clinical practice, but also gives detailed answers to more than 350 clinical questions, leaving readers space to think and feel. A detailed exposition is made through a variety of marked pictures, questions and answers, combined with surgical videos of each surgical operation and treatment for various problems or complications.
This book is distinctive in the field of glaucoma in China and abroad. And it is suitable for medical students, graduate students, ophthalmologists at all levels, especially for professional glaucoma ophthalmologist and anyone who is interested in glaucoma.
Five predecessors wrote the preface in their own handwriting and gave highly praise for the authors and the book, includes:
"The content is novel and the form is unique. The authors are innovative and unreservedly share their personal clinical practice and experience."
"From this reference book, you can got the feeling as if the authors are giving you guidance and discussion face to face, no matter which hospital you are in."
"Observation, imitation, inspiration, wisdom and perfection. The authors' experience is the portrayal of their success but also the invaluable advice for the young doctors."
"The authors preserve and spare no effort on becoming outstanding in the field of glaucoma. They inherited the good tradition of dedication from the elder generation."
"The authors pursue their dreams persistently and achieve success when they are mature."
"The authors are keen on grasping the pulse of the present era for the sake of solving clinical problems and sharing valuable achievements. Meanwhile the authors answered the surgery-related clinical questions one by one with their professional insights and rich clinical experience. The words are concise and comprehensive. Reading is always beneficial!"