【Glory】Professor Liu Yizhi of ZOC Wins Award for Outstanding Contribution to Science and Technology in Guangdong Province
Source: Zhongshan Ophthalmic Center of Sun Yat-sen University
Edited by: Liu Nian
On February 7th, Guangdong Innovative Development Conference was held in Guangzhou. Chunhua Hu, Secretary of Guangdong Provincial Party Committee (GPPC), and other leaders presented Science and Technology Awards of Guangdong Province to winners. Professor Liu Yizhi, from Zhongshan Ophthalmic Center (ZOC), won an Award for Outstanding Contribution to Science and Technology in Guangdong Province, which is the highest science and technology award in Guangdong Province.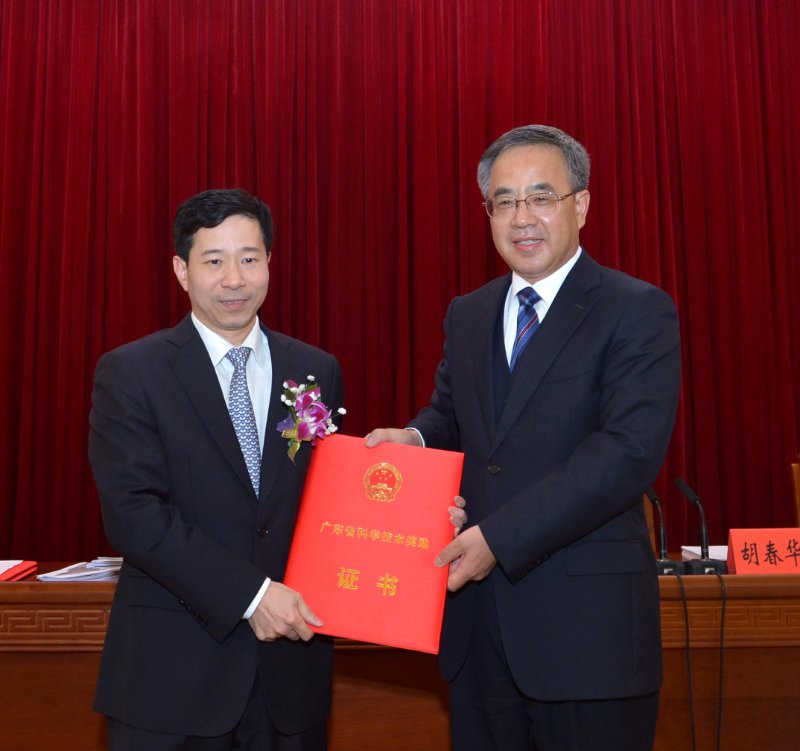 Chunhua Hu, Secretary of GPPC, presents Professor Liu Yizhi the award.
Established in 2007, Award for Outstanding Contribution to Science and Technology in Guangdong Province was an annual award presenting to no more than two winners each time. This award is granted to scientists and technologists dedicating to independent innovation in Guangdong Province and have made great breakthroughs in modern science and technology fronts or have had preeminent establishments in the development of science and technology; or those who have created huge economic or social benefits in the innovation of science and technology, the transformation of new technical know-how into productive force, as well as the industrialization of high technology. Since 2007, 13 persons, including Jiamo Fu and Nanshan Zhong, have been consecutively awarded this honor. Professor Liu Yizhi is the first non-academician that has won this award within universities of Guangdong Province.
Personal Sidelights:
Professor Liu Yizhi, Director of ZOC, Sun Yat-sen University and Dean of Eye Hospital, is a legend in China's Ophthalmology and one of the pioneers of China's minimally invasive cataract surgery. He is acknowledged by peers as "the scalpel for cataract".
Innovations in cataract surgery help 200 thousand cataract patients regain their vision.
Cataract is the most likely eye disease to cause blindness, accounting for over 50% of all eye diseases leading to blindness. China's traditional cataract treatment has fallen behind for a long time, so lots of cataract patients don't have access to treatment and the Cataract Surgical Rate (CSR) in our country is far below the global average. However, in every surgery of restoring vision, Professor Liu Yizhi never forgets the clinical application of scientific thoughts. In early 1990s, he overcame the problem that phacoemulsification "was unsuitable for Chinese people" by creating a safe and efficient system for minimally invasive phacoemulsification, which not only was adapted for Chinese people, but also changed the awful situation of domestic cataract treatment. Up to now, the core of the innovative phacoemulsification still works as a conventional technique of cataract surgery at large and medium hospitals. Having devoted himself to medicine for 32 years, Professor Liu Yizhi has polished "the window of the soul" for 200 thousand cataract patients by helping them regain their vision.
Moreover, Professor Liu and his group pioneered the effective torsional mode in phacoemulsification, achieving the transition of cataract surgery from one that requires large incision to minimally invasive operation and promoting the prevention and treatment of cataract in China. The technology has enhanced the rate of vision rehabilitation from 42.0% to 95.7%, and shortened the operation time from 60 minutes to 10 minutes. Now China's cataract treatment level is leading the world. This technology is universally recognized as "the milestone for cataract surgery development" and has been applied in 180 countries and 588 domestic institutions.
Original achievements in researches and innovations enhance China's international academic competitiveness in ophthalmology.
Professor Liu Yizhi, as the Director of ZOC and Dean of Ophthalmic Hospital Affiliated to SYSU, puts forward a development strategy which emphasizes talent strategy, research hospital, collaborative innovation and internationalization, and he also insists innovative discipline construction which has won spectacular results. Under his leadership, ZOC has ranked first over the years in terms of both reputation and technology in the field of ophthalmology. Professor Liu Yizhi has set up a number of high-level international teams and introduced many leading talents to his teams, including ten talents who works full-time for "the Thousand Talents Plan" organized by Organization Department of the CPC Central Committee (including talents from the Recruitment Program for Young Professionals of the Plan), two winners of the National Science Fund for Distinguished Young Scholars, and one winner of Science Fund for Outstanding Youth. The amounts of SCI papers and highly cited papers published by ZOC have reached international top-ranking level. Besides, under his organization and leadership, Director Liu and his team competed with many countries and regions and finally made it come true that Asia-Pacific Academy of Ophthalmology (APAO) permanently located its headquarter in Guangzhou, China. APAO is the first international medical academic organization that located its headquarter in China. According to Martin, then the president of APAO, it would bring a new era of leaping development for Asia-Pacific ophthalmology. It's a milestone to the development of ophthalmology in China.
In order to overcome infantile congenital cataract, an eye disease which is difficult to treat, Professor Liu Yizhi, as a pioneer of ophthalmology, established the world's first data sharing research platform with his research team, and led many research groups from both America and China. After 18 years' hard work, Liu and his team created a new mode of minimally invasive cataract surgery, which achieves the functional lens regeneration using endogenous stem cells and has been applied to the clinical treatment for congenital cataract. The creation breaks a new ground for the use of endogenous stem cells to treat human diseases. The progress was published in Nature as an original article (Corresponding author, 2016), and was rated as one of the best achievements in regenerative medicine so far by Nature and one of the top 8 notable advances in the field of life sciences 2016 by Nature Medicine. The achievement contributes a lot to improving the prevention and treatment of blinding eye diseases internationally and enhancing the international influence of Chinese medicine.
The creation of Professor Liu Yizhi and his team enlightens us and points a direction for the treatment of other pathological tissues and organs. In the future, will human achieve the regeneration of other solid tissues and organs through precisely defining the position of stem cells and improving the accuracy of operations?