International Ocular Oncology Conference: 2019 ZOC Joint Forum – Research on Ocular Oncology
Resource: Department of Orbital Diseases and Ocular Oncology
Written by: Department of Orbital Diseases and Ocular Oncology
Proofread by: Jiawei Wang
Edited by: Xianjing Wei
On the 25th November, 2019, a group of well-reputed experts in ocular oncology travelled from the UK, USA and Beijing for the ZOC Joint Forum – Research on Ocular Oncology, being held here in Guangzhou. The Forum was held at the Zhujiang New Town Campus, hosted by Prof. Rong Lu of the Department of Orbital Diseases and Ocular Oncology at Zhongshan Ophthalmic Center and the State Key Laboratory of Ophthalmology. As a sequel of the Forum, the ZOC Course Series 12 on Uveal Melanoma was held in the evening.

Invited guests included Professors Chi-Chao Chan of NEI, Sarah Coupland of University of Liverpool, Kaifu Chen of Cornell University and Methodist Research Center, Xiaoyan Peng and Bin Li of Beijing Tongren Hospital, Zhiming Li of SYSUCC and Huasheng Yang, Jingxuan Pan, Rong Lu and Ping Zhang from ZOC. It was a great opportunity for intellectual sharing in/of aspects of clinical and molecular diagnostics, pathology and basic science research in ocular oncology and particularly in the areas of retinoblastoma, intraocular lymphoma and uveal melanoma.
President Xiaofeng Lin of ZOC gave an opening speech and extended a warm welcome to all the guests and audience.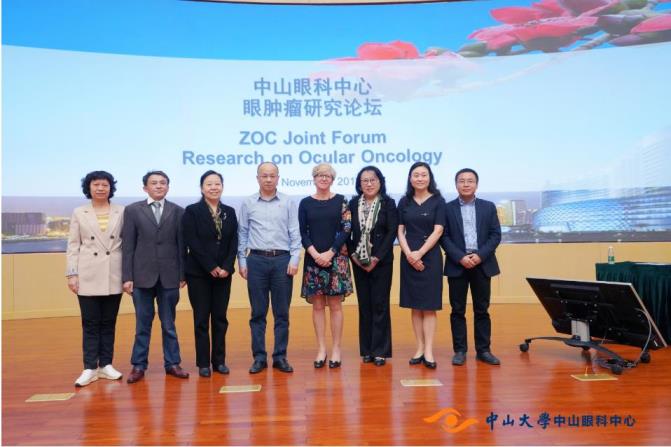 Invited speakers took a group photo.
Apart from the Forum, the invited guests were taken on a tour in the Zhujiang New Town Campus. Guests were impressed by the up to date architecture of the new building, and the advanced research facilities and settings available in the laboratories.
Prof. Rong Lu; who coordinated the event, took the opportunity to share her work with Professors Sarah Coupland and Kaifu Chen. Prof. Lu is a clinician in the Department of Orbital Diseases and Ocular Oncology. She also recruits and supervises a team of postgraduate students and resident doctors for basic research on retinoblastoma and clinical research into other ocular oncology.