Zhongshan Ophthalmic Center, Sun Yat-sen University, Ranked No 1 for Sixth Consecutive Year--Release of the 2018 China Mainland Hospital STEM Ranking
Resource: International Office
Written by: International Office
Proofread by: Jiawei Wang
Edited by: Xianjing Wei


The 2018 China Mainland Hospital, Science and Technology Evaluation Metrics (STEM) rankings, by the Chinese Academy of Medical Sciences were released on December 19th, 2019. Zhongshan Ophthalmic Center, Sun Yat-sen University has been ranked No 1 in the field of Ophthalmology for the sixth consecutive year since the rankings were first established.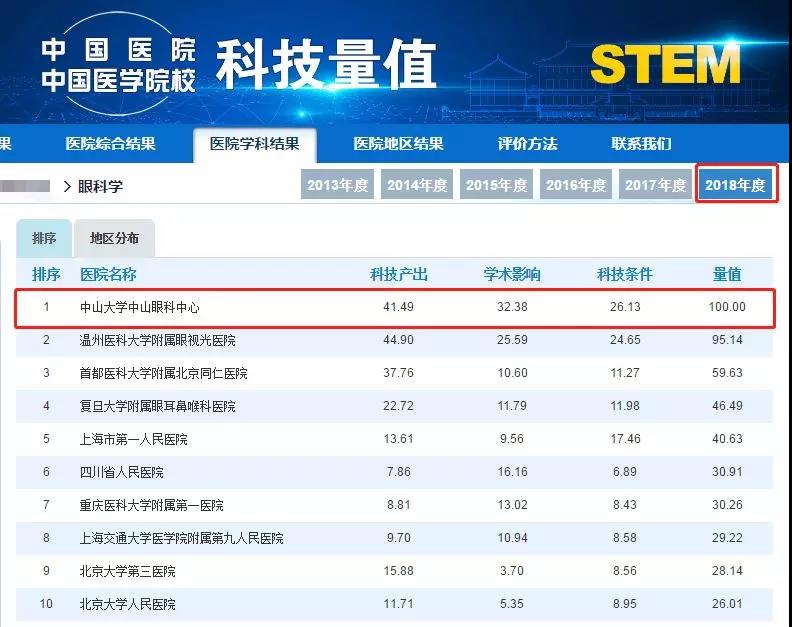 STEM, works around the overall implementation of science and technology activities and covers the estimated metrics on the entire chain of innovation activities. It marks the progress of medical technology for the country and measures the individual hospital's level of technology development. STEM represents the hospital's comprehensive strength and reflects the capacity of the hospital's technology innovation and sustainable development.

Introduction of China Mainland Hospital STEM

The China Mainland Hospital STEM was introduced in 2008. Guided by the Chinese Academy of Medical Sciences (CAMS), the CSTEM is organized by the Institute of Medical Information (IMI) & Library, which aims to improve China's medical technology evaluation system, assist the development of medical technology and innovation and establish a long term multi-aspect evaluation system. CAMS has annually released the China Mainland Hospital STEM since 2014Guided by the National Technology Policy and advised by a diverse pool of specialists, the expert panels evaluated the hospital's scientific output, academic influence and research conditions by unified standards, sources and methods. The scientific output reflects the number of publications and citations. The academic influence reflects the scientific awards, outstanding talents, and academic positions. The research condition reflects the number of research projects and research platforms. The evaluation results have been published for 6 consecutive years since 2014-2019. This year, CSTEM evaluated over 1,660 AAA class hospitals and 29 fields of discipline.