ZOC's Baiyun Mountain walk and activities, 2019
Resource: Central Labor Union
Written by: Xin Chen
Proofread by: Jiawei Wang
Edited by: Xianjing Wei
The annual Zhongshan Ophthalmic Center, Sun Yat-sen University walk up Baiyun Mountain began on the morning of December 14th, 2019. The event was organized by the Central Labor Union and staff from the ZOC were actively encouraged to participate in the walk and activities.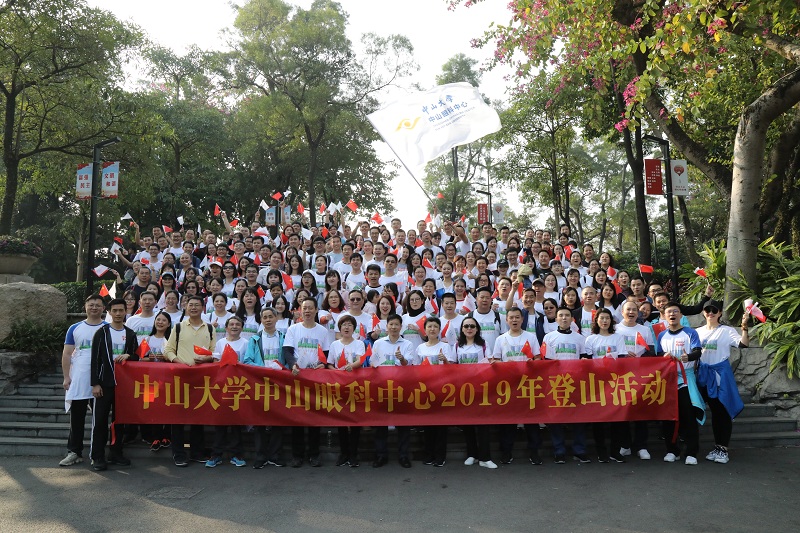 Staff gathered at the southern gate of Baiyun Mountain Park at 8:30 am and led by the ZOC Flag, everyone walked forward and marched towards the top of Baiyun Mountain. Enjoying the exhilarating walk and the fresh air, people talked with each other along the way, sharing their life and work experiences.

With the leaders, the staff sang enthusiastic and patriotic songs on the square. They expressed the hope that the Ophthalmology Center achieve greater glory and rise to a higher level. Subsequently, demonstrated by several of the youngster members, the staff stretched, kicked, jumped, and enjoyed themselves.

The annual walk up Baiyun Mountain is now a noted event for our Center; ascending the mountain brightens people's mood, reminds ophthalmologists to maintain a healthy body and a positive state of mind and also builds friendship and connections between employees.