Lifeline Express/Zhongshan Ophthalmic Center 2019 International Conference on Retina and Cornea
Resource: International Office
Written by: International Office
Proofread by: Jiawei Wang
Edited by: Xianjing Wei
From November 20th to 21st, 2019, "Lifeline Express" and Zhongshan Ophthalmic Center (ZOC), Sun Yat-sen University co-hosted the 2019 International Conference on Retina and Cornea, in the Zhujiang New Town premises of ZOC. This forum was to be the fourth joint International Academic Conference organized by the two institutions. During the Conference, eight invited experts from United States, United Kingdom and Portugal, as well as 16 experts from ZOC, delivered academic courses on basic concept and latest progress in retina and cornea treatment, research, and clinical practice. This included the sharing of surgery videos and case discussions. Over 200 doctors attended the Conference many of whom were from hospitals that "Lifeline Express" supports. These include many country hospitals in the Guangdong Province, and other hospitals in the Provinces of Yunnan, Hubei, Jilin, Anhui, Liaoning, Hunan, Guangxi and Guizhou. Residences and refresher doctors who are studying at Zhongshan Ophthalmic Center were also able to join the audience at the Conference.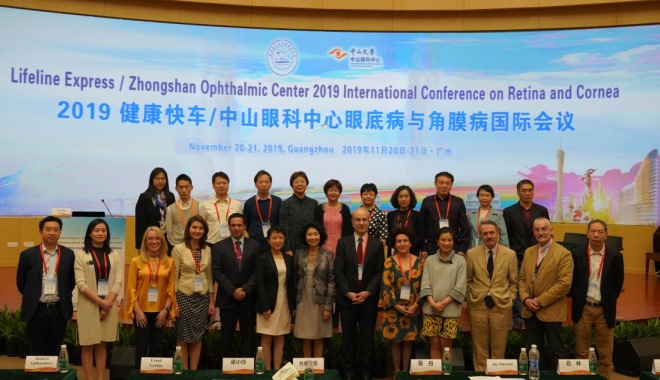 Invited speakers took a group photo.

During the opening remarks, the founder of "Lifeline Express"; Mrs. Nellie Fong, spoke of the history of "Lifeline Express" and the crucial importance of cooperation with top ophthalmic institutions, like ZOC.


Deputy Director of ZOC as well as Chairman of the Prevention of Blindness Department; Professor Xiaoling Liang, gave a brief introduction of the history of ZOC. She referred to the long-standing and well-established history of ZOC and mentioned the contribution that ZOC had made to Chinese ophthalmology development and medical science. Furthermore, she expressed ZOC's appreciation for the platform of international collaborations, which had brought friendship and new research as well as educational opportunities for Chinese ophthalmologists and researchers.


Professors Jay Stewart and Frank Larkin, expressed their gratitude for the invitations from ZOC to attend the Conference. They wished the Conference the greatest success and expressed their hopes for building long-term collaborations.

The Conference utilized English interpretation and on-site translation to deliver the latest international information on retinal and cornea diseasesfor domestic ophthalmologists. The current status, complicated cases and latest clinical research findings as well as best practice from the various Institutes were shared. Meanwhile, this Conference was broadcast live; which not only allowed the answering of questions from the attending ophthalmologists but also allowed ophthalmologists who could not attend and participate to communicate directly with the experts. Live broadcast and video playback was played over 40,000 times.

The 2019 International Conference was concluded successfully on the afternoon of November 21st. The Conference provided domestic ophthalmologists with the opportunity to meet top international experts and promoted academic exchanges between Chinese and international ophthalmologists.