Foreign Aid Continued with Love: A Vision Mission by Dr Liu Bin in Commonwealth of Domonica
Source: Department of Preventive Ophthalmology, ZOC
Written by: Department of Preventive Ophthalmology, ZOC
Proofread by: Jiawei Wang
Edited by: Xianjing Wei


Designated by the Health Commission of Guangdong Province, Dr Liu Bin, ophthalmologist from Zhongshan Ophthalmic Center (ZOC), Sun Yat-sen University, embarked his journey to the Commonwealth of Domonica on June 17th, 2019. After a long travel of more than 15,000 kilometers, he finally set foot on the island on June 19th, 2019. Dr Liu Bin has stayed in the China-Domonica Friendship Hospital for more than one year, during which he offered comprehensive eye health services, including outpatient, emergency, surgery, teaching, community screening, glaucoma diagnosis and treatment, and so on. His professionalism and sense of responsibility have been highly appreciated and recognized by the local patients, hospital staff, and the Ministry of Health of the Commonwealth of Domonica.

Ms Wyke, Secretary General of Domonica, conferred on Dr Liu Bin the Certificate of Appreciation countersigned by the director, secretary general, and chief medical officer of the Ministry of Health.


It goes back to May in 2018 when Dr Liu Bin received a phone call that asked if he was able to and willing to undertake the mission of foreign aid in Domonica for a year.

As an ophthalmologist in ZOC, it was not the first time he ever shouldered such responsibilities. With more than ten year experiences in the field, he has constantly devoted himself to medical aid missions in Africa, South Pacific, and so on. He has engaged for four times in the medical activities organized by the Lifeline Express and led by the National Health Commission of the People's Republic of China. His efforts have been widely recognized by the Vice President of the Republic of Ghana, leadership of the Fiji Government and the Health Commission of Guangdong Province.

His kid was still in kindergarten, but strong support from the family, as always and more than ever, helped him to forge ahead.

When he first arrived, though well prepared linguistically and mentally, Dr Liu Bin and his teammates were much surprised and put into quite some inconvenience. Medical staff, medicines and equipment were lacking; there was only one slit-lamp, one nurse, one medical assistant, and one technician in bad health, and the facility, after hurricane wreaked havoc, was poorly supported by bricks and wood. As the only large public hospital throughout Domonica, it served a total population of nearly 80,000 and Department of Ophthalmology was one of the busiest departments. In peak seasons, Dr Liu Bin would need to handle more than 50 outpatient visits per day. Most of the time, he had to multi-tasking; he had to performed on his own what were previously completed by nurses in China, and he had to utilize the limited resources to offer medical service while ensuring safety of his patients during COVID-19.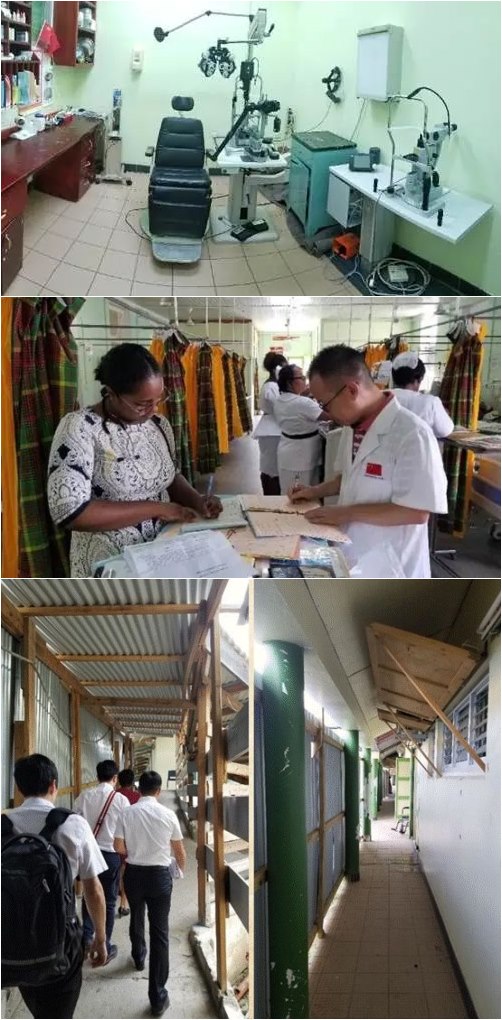 The hospital was poorly supported and without window, and Dr Liu Bin had to work standing most of the time
During his stay in Dominica, what struck the local patients most is his professionalism. One of his patients had been diagnosed and treated as having glaucoma for more than ten years. Despite long-term medications, his intraocular pressure (IOP) had no improvement. With rich experience and confidence, he stopped medication; it turned out that the patient was misdiagnosed, and he was not the only one due to ill practice of IOP measurement. Therefore, he restarted to use Goldmann that had been long set aside and corrected the misdiagnosis of more than 10 patients.

Limited by a lack of medication and equipment, he had to be resourceful most of the time. One patient came to him with corneal ulcer complicated with endophthalmitis. While the case was of high emergency, antibiotic eye drops were lacking. But he managed to come up with an invention and stopped it from progression.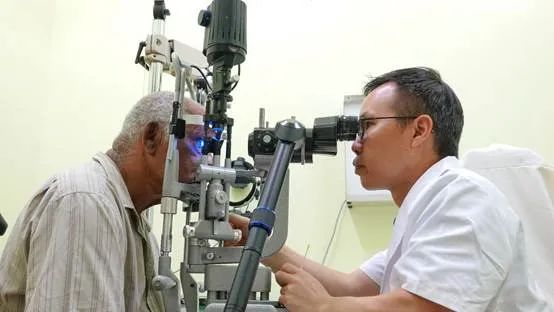 Performing IOP measurement using Goldmann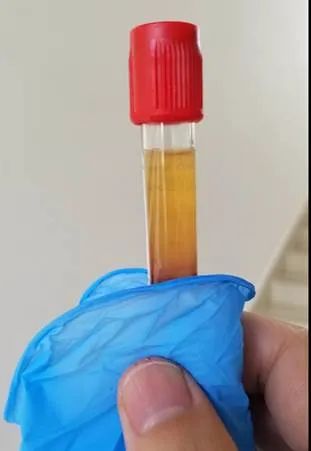 Dr Liu Bin's Life-saving Intervention


Dr Liu Bin, when recollecting these moments, attributed them to his observation when working with his senior colleagues back in China in a time when medications and equipment were less adequate and developed, and quick and practical wit was always needed.

In addition to treating patients, Dr Liu Bin took his job forward and provided health education to patients and capacity building to the medical staff. Dr Liu Bin, seeing the gap in eye surgeons in the local hospital, managed to set up a training room, with all the resources he had at hand, to teach the staff the necessary surgeon skills. There he carried out systemic hands-on teaching to empower the local ophthalmologist to master the surgery till she was able to perform the procedures independently.

Hands-on teaching by Dr Liu Bin


Dr Liu Bin said the success of his stay was not possible without the support from ZOC and the governments. When he first arrived, ZOC sent to him necessary equipment for him and the hospital to provide surgical service. When the outbreak of dengue fever broke out in Dominica, Dr Liu Bin and other teammates were also accidentally infected. The Chinese government provided what they could to the team, and Wang Hesheng, deputy director of the National Health Commission, visited Dominica as scheduled, and sent the necessary protective equipment to the team.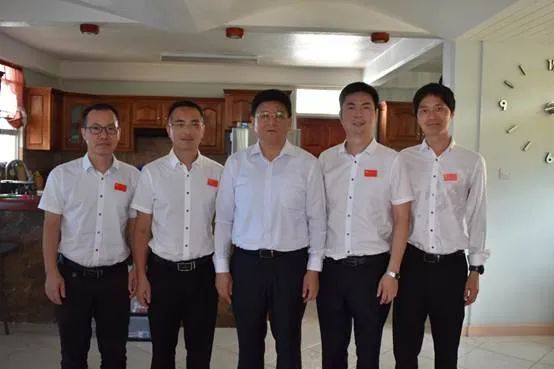 Wang Hesheng, deputy director of the National Health Commission, visiting the team


Dr Liu Bin was the second ophthalmologist, after Dr Cao Qianzhong, to undertake this glory mission in ZOC. And Dr Liu Bin was followed by Dr Huang Chuangxin. The three of them have been working closely to ensure that the successors were well prepared.

It was the genuine wish of the foreign aid team that what they brought to the country was more than medical service; their wish was to build up their capacity so that they can serve the population independently and sustainably, a mission that generation by generation in ZOC has been working for. More and more patients have been benefited from these continuous and persistent efforts, and the "Love for All" culture of the Chinese people have been prompted. It is the belief that everyone has the right to sight that keeps the team forward, and ZOC will continue to do so in the days to come, relentlessly and with high quality.