"The Starry Sky Move" Launched in ZOC
Resource: Ophthalmology and Optometry Department, ZOC
Written by: Lin Zhi, Lou Bingsheng, Ophthalmology and Optometry Department, ZOC
Proofread by: Jiawei Wang
Edited by: Xianjing Wei
Aiming to promote young ophthalmologists' core competence and to polish their clinical and research skills, " The Starry Sky Move—New Generation School" initiated by Professors Lin Xiaofeng and Zhuo Yehong, Deputy Directors of Zhongshan Ophthalmic Center (ZOC), were officially launched in the Zhujiang New Town Campus of ZOC on Jan 25th 2021.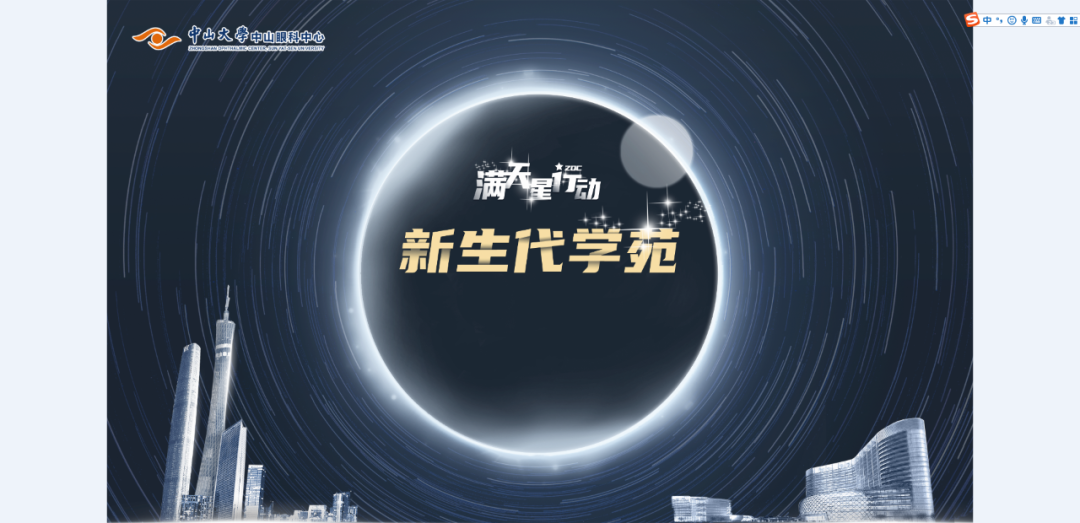 "The Starry Sky Move" activated in ZOC

The program covered six major topics in ophthalmic emergency, ocular surface and corneal diseases, retinal and vitreous disorders, pediatric eye disease, secondary glaucoma, prevention and myopic control and refractive error. Professor Zheng Danying, Deputy Director of the Ophthalmology and Optometry Department, and Professor Li Tao, Chief Physician of the Emergency Department hosted the first course, which was on "Ophthalmic emergency and infectious eye diseases". Professors Yuan Jin and Lin Haotian, Deputy Directors of the ZOC, as the special guests, and Professors Yang Xiao, Huang Jingjing, Associate Professors Lou Bingsheng and Yang Yangfan, as the review experts, guided the 11 young ophthalmologists who presented clinical cases on infectious related vision loss, infectious keratitis after refractive surgery, generation and prevention of ocular drug-resistant bacteria of infectious keratitis, et al. Experts expressed their opinions and shared their experiences on the clinical controversies.

Through diversified and interdisciplinary discussion with the speakers and the senior ophthalmologists, the young ophthalmologists enhanced their professional knowledge and skills with comprehensive thinking abilities. Professor Lin Xiaofeng, Deputy Director of ZOC, said that "The New Generation School is a stage especially designed for young ophthalmologists, and it is a new attempt to bring young talents together by providing opportunities to showcase their intelligence, preparing them towards the national stage, and gradually be acknowledged by the professionals in the ophthalmology field." Professor Zhuo Yehong pointed out that "Being the best eye institution in China, ZOC has cultivated many excellent ophthalmologists around the country. The initial intention of the program is to build an academic stage for young talents, helping them quickly develop into a better and successful ophthalmologist in the future."

This event was hold online and off-line simultaneously, with 4000 participants from 26 domestic cities. It has been a successful learning and teaching platform for the young ophthalmologists.