Yuan Jin group from Zhongshan Ophthalmic Center Released the First Visual Health Group Standard for Virtual Reality
Resource: Ophthalmic Engineering Research Center
Proofread by: Jiawei Wang
Edited by: Xianjign Wei
Reviewed by: Xiaoling Liang
Virtual Reality (VR) is a computer system for creating and experiencing simulated three-dimensional virtual scenes, providing multi-sensory and multi-dimensional information. It is a universal technology platform and Internet portal for future generation and considered as "one of the keys to the fourth industrial revolution". In the 14th Five-Year Plan for National Economic and Social Development and the Outline of Vision for 2035 issued by the State Council in 2021, virtual reality and augmented reality have been included in the national key development direction plan. The technology was mainly based on visual signal input. However, the visual health evaluation methods and standards of virtual reality technology have been vacant in the long term.
On January 24, 2022, the group standard "Virtual Reality Technology Visual Health Impact Evaluation Method" (No: T/CSBME 052-2022), led by Zhongshan Ophthalmology Center of Sun Yat-sen University, was officially released. The participating units in the standard formulation included China Electronics Standardization Institute, National Virtual Reality/Augmented Reality Product Quality Inspection and Testing Center, China National Institute for Food and Drug Control, Suzhou Institute of Biomedical Engineering Technology, Chinese Academy of Sciences, State Key Laboratory of Optoelectronic Technology, Sun Yat-Sen University, Chinese Society of Biomedical Engineering, Computer Center of China Medical University, Guangzhou Institute of Metrology and Testing Technology, Shenzhen Saixi Information Technology Co., Ltd. and Mide Technology Co., Ltd, etc. (11 national professional institutions, research units and enterprises). This standard is the first visual health group standard in virtual reality in china or in the world.
The leader of the group standard formulation, Professor Yuan Jin from Zhongshan Ophthalmology Center, presided over the press conference and introduced the background and significance of the formulation of the virtual reality visual health group standard. The main contents of the standard include the scope of application, test conditions, subject requirements, test process, test methods, record and analysis of test results, etc. Six parts were explained in detail. It was proposed to take standard test signal input. After individuals use virtual reality products, assessment of the visual health risk level was based on the variable magnitude and change of objective signs of binocular accommodation/convergence function (accommodation response, AC/A), objective signs of tear film function (tear film break-up time), subjective visual fatigue score and primary visual function index (visual acuity, and Intraocular pressure). The standard first proposed the virtual reality visual health detection process and core detection indicators and established a virtual reality technology visual health detection system and platform. Professor Yuan Jin said that the release of this standard would provide standard management, help to maintain a great momentum of growth of the virtual reality field and promote the technological upgrade of the virtual reality industry, forming a new paradigm for the medical and industrial circles to build a virtual reality health ecology jointly.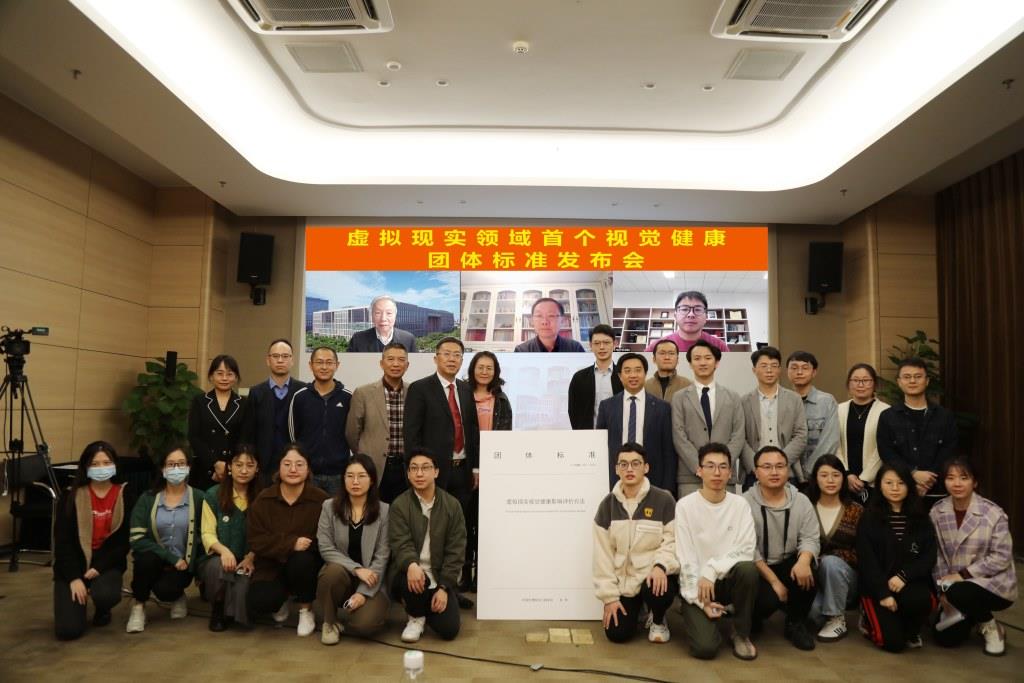 The well-known experts in the domestic virtual reality field, such as the virtual reality leader of our country, Academician Qinping Zhao of the Chinese Academy of Engineering, Professor Yongtian Wang, head of the Virtual Reality and Augmented Reality Standard Working Group of the School of Optoelectronics and Computer Science, Beijing Institute of Technology, and National Information Technology Standardization Technical Committee, Director Guiguan Dong Senior Engineer, National Virtual Reality/Augmented Reality Product Quality Inspection and Testing Center Experiment, Professor Jianying Zhou of the State Key Laboratory of Optoelectronics Technology of Sun Yat-Sen University, Professor Zhifeng Hao of Shantou University, Professor Lou Yan of China Medical University, Deputy Director Zhu Zhengyuan of the Digital Technology Research Center of Shenzhen Saixi Information Technology Co., Ltd. participated in the standard conference. Academician Qinping Zhao stated in his speech that "the release of the group standards has a significant impact on regulating the development of the virtual reality industry, and plays an important supportive role in promoting industrial-technological progress and guiding the development of the industry". Professor Yongtian Wang said in his speech that the release of this standard would provide a reference for the development of domestic virtual reality display technology and related products and play an essential role in regulating the market and guiding the healthy development of the industry. Director Guiguan Dong pointed out that the standard led the direction of visual health standards for display products, filled the vacancy in scientific testing methods, and provided a reference for formulating relevant standards for other types of display products in the future.
Zhongshan Ophthalmology Center will make continuous efforts to promote standards in virtual reality mental health and safety, optoelectronic physical parameters, handing hand with government, medical, enterprise and research institutions. We aimed to establish a technology research platform and testing/certification/transformation platform for pan-terminal visual health, accelerating the implementation of visual health industry standards/national standards for pan-terminal technologies including virtual reality and provide standard guideline for a robust of growth in of the virtual reality industry.