The 2022 World Glaucoma Week Series of Zhongshan Ophthalmic Center Were Successfully Held
Source: Department of Glaucoma, Zhongshan Ophthalmic Center
Proofread by: Jiawei Wang
Edited by: Xianjing Wei
Reviewed by: Xiaoling Liang


The "Glaucoma Home" is a popular education platform for glaucoma established by the Department of Glaucoma of Zhongshan Ophthalmic Center, aiming to increase the public's awareness of glaucoma. The activities associated with the platform has been carried out for 12 years.

During the 15th World Glaucoma Week, March 6-12, 2022, the Department of Glaucoma of Zhongshan Ophthalmic Center launched a series of "Glaucoma Home" activities, calling on the public to understand glaucoma and pay attention to eye health.


Event 1
Short Videos on Glaucoma Health

The glaucoma experts from Zhongshan Ophthalmic Center and the media were invited to work together to record a series of short videos called "Frequently Asked Questions (FAQ) on Glaucoma ". The FAQ were the public's most concerned according to Baidu's Big Data. The experts used easy-to-understand words to explain the glaucoma, so that patients gained a clearer perception.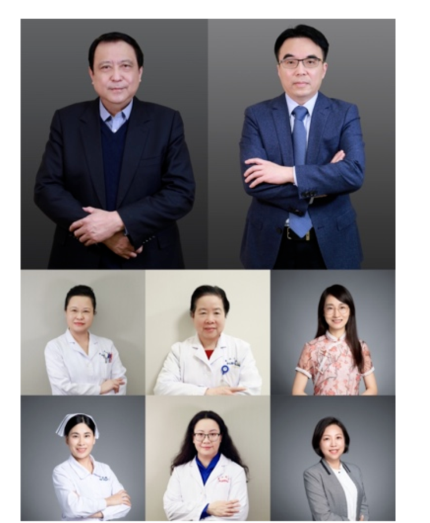 Medical staff who participated in short videos recording

Event 2
Glaucoma on Live Broadcast
From March 7-10, together with 39 health-related media, the glaucoma department joined hands with Southern Life Radio, carried out "Relay Live Broadcast" on glaucoma. Professor Minbin Yu, one of the leading specialists in the field, Professor Yehong Zhuo, the Deputy Director of Zhongshan Ophthalmic Center, and other specialists, including Qianxin Zhang, the Director of Guangzhou Rongai Social Service Center, joined the 8 live broadcasts for 5 days, covering common knowledge of glaucoma, types of glaucoma, childhood glaucoma, visual rehabilitation, and etc. The live broadcast attracted more than 15,000 viewers and eye care-related questions raised by more than 500 viewers were answered.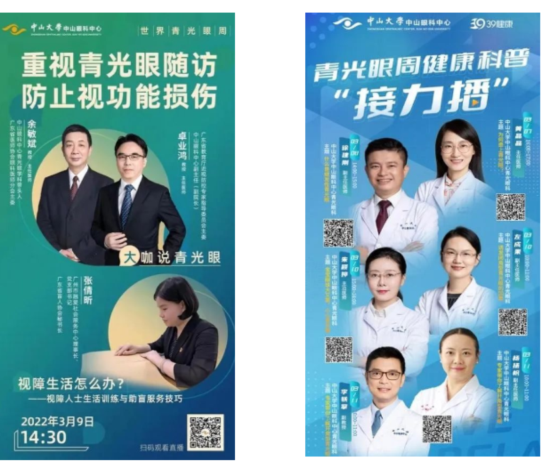 The post of the Glaucoma specialists on the "Relay Live Broadcast"


Event 3
Glaucoma Internet Clinic

The Department of Glaucoma organized an Internet clinic from 3:00 to 5:00 p.m. on March 11 based on the current situation of pandemic prevention and control. 11 experts, including Jian Ge, Minbin Yu, Yehong Zhuo, Xing Liu, Mingkai Lin, Jingjing Huang, Yunlan Ling, Yimin Zhong, Rao Zuo, Yangfan Yang, and Yiqing Li, formed the clinic team to offer a free online consultation to 200 patients. The on-line consultation was well organized and conducted, which was praised by the patients.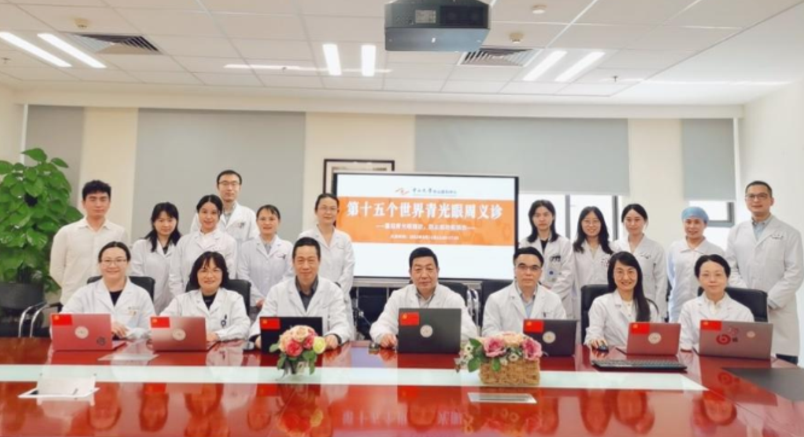 Group photo of the on-line clinic experts

Special Event
"Field of Vision Self-Testing" Internal Test Experience

Field of vision is one of the important indicators to monitor the progress of glaucoma, however at present, the relevant data can only be obtained through professional instruments in hospitals. Therefore, in order to meet the needs of patients' follow-up, the Glaucoma Home also launched a special activity for World Glaucoma Week by inviting patients to experience the " Field of Vision Self-Testing " through the " Field of Vision Self-Testing " software (internal test version only), which is developed independently by Zhongshan Ophthalmic Center owning the software's full intellectual property rights.

The series of activities of World Glaucoma Week at Zhongshan Ophthalmic Center, with its specialists, rich forms, informative contents and wide range of audience, was a great success. It raised the awareness of glaucoma among patients and their relatives, and made effective guidance for the target group to carry out regular treatment. The Department of Glaucoma is planning to carry out regular live broadcasts to promote communication between medical staff and patients as well as to build a long-lasting and good doctor-patient relationship.