Professor Jin Yuan from Zhongshan Ophthalmology Center, Sun Yat-sen University Won the Honorary Title of "Top Ten Original Research Leaders" at the 7th Annual Meeting of Medical Scientists
Resource: Ophthalmic Engineering Research Center
Proofread by: Jiawei Wang
Edited by: Xianjing Wei
Reviewed by: Xiaoling Liang
On March 18th, the 7th Annual Meeting of Physicians and the 2nd Physician Professional Development Forum, jointly sponsored by Physician Newspaper, China Medical and Health Culture Association, CCTV, and etc., was held in Beijing. The results of the honorary award selection were announced. Professor Jin Yuan from the Zhongshan Ophthalmology Center, Sun Yat-sen University won the honorary title of "Top Ten Original Research Leaders" in 2021.
Jiahong Dong, the academician of the Chinese Academy of Engineering and editor-in-chief of the Physician's Daily, said that as a health-related media, the Physician's Daily with focuses on medicine, anatomy, and etc., serves physicians and strives to become an essential force in promoting health. Keji Chen, the academician of the Chinese Academy of Sciences (CAS), introduced in his speech at the conference that the annual meeting promotes the high-quality development of hospitals and provided a platform on discussions of hospital culture, management, and disciplinary construction. The conference set up a series of awards such as the "Top Ten Original Research Leaders", the "Top Ten Outstanding Specialists Contributing to Hospital Management", the "Top Ten Young and Middle-aged Researchers", and "Top Ten Medical Humanities Brand Hospitals".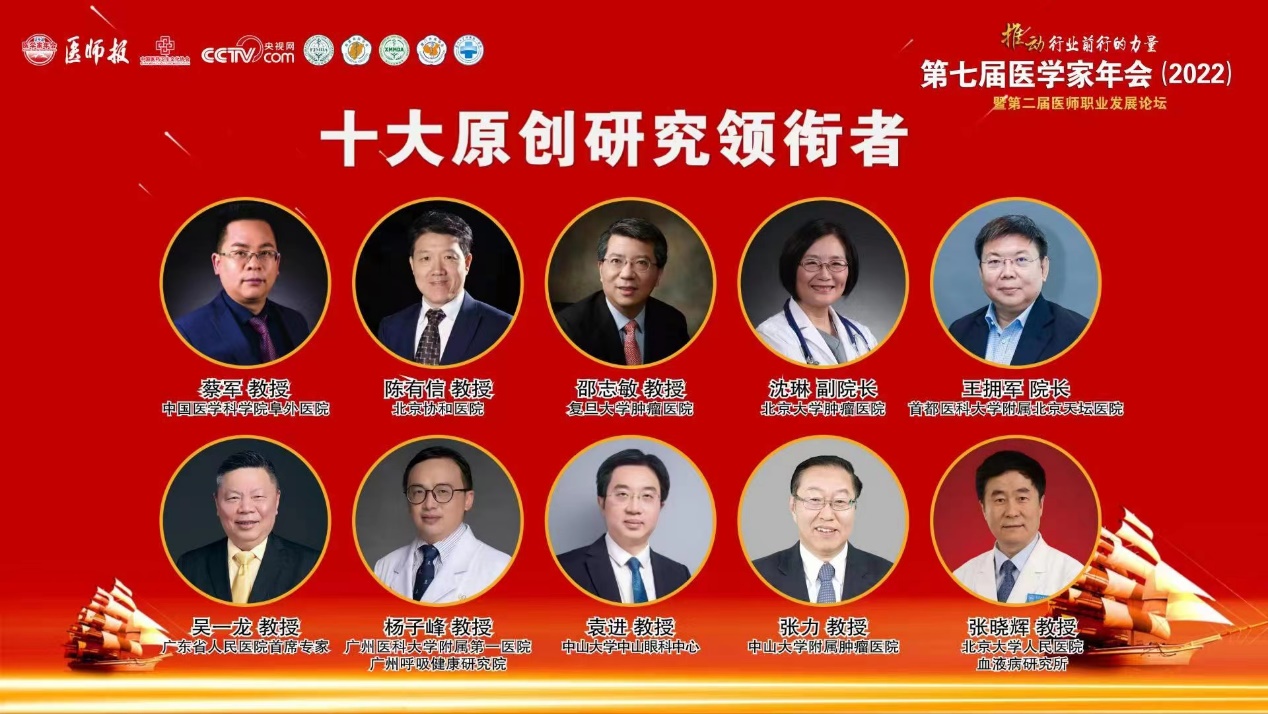 The Top Ten Young and Middle-aged Researchers
Professors Jin Yuan, Zhongshan Ophthalmic Center, Yongjun Wang, President of Tiantan Hospital Affiliated to Capital Medical University, and Jun Cai from Fuwai Hospital, Chinese Academy of Medical Sciences, and seven others were selected as the "Top Ten Original Research Leaders" of the year.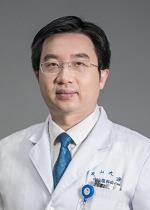 Professor Jin Yuan
Professor Jin Yuan's major achievement stated at conference. 80% of the information about human perception of the world comes from the eyes. If the eye is a camera with a sophisticated structure, the cornea is the front lens, the premise, and foundation for clear vision. Professor Jin Yuan takes care of the lens carefully. For the major needs of ophthalmology clinical diagnosis and treatment, Professor Jin Yuan integrates medicine, science, and engineering, focuses on the development of innovative drugs for corneal diseases, establishes innovative surgical procedures, and develops disease quantitative analysis technology. He has undertaken major national scientific research projects and multi-center, large-scale clinical trials, through which he has achieved breakthrough clinical results and transformations. After discovering the early activation mechanism and early intervention targets of ocular surface keratitis, he developed efficient and safe ocular immune anti-inflammatory drugs and anti-infective drugs; promoted the clinical sutureless application of acellular biological corneal transplantation; developed high-performance multimodal ophthalmic imaging technology to establish a multi-dimensional, intelligent quantification ocular surface and corneal damage grading system. He has promoted the establishment of a new model of accurate diagnosis and treatment of ocular surface cornea diseases, which significantly promoted the efficiency of corneal disease diagnosis and treatment, reduced the blindness rate, by providing an innovative example of integration medical practice and technologic support. These will help the ultimate realization the goal of Healthy China.
In response to the requirements of epidemic prevention and control, this annual meeting was held simultaneously online and offline. Academicians of the Chinese Academy of Engineering Boli Zhang, Jiahong Dong, Qimin Zhan, Demin Han, Daiming Fan; over ten CAS academician including Keji Chen, Jia Fan, Hefeng Huang, Erwei Song; Director Qunan Mao from the Planning Development and Information Department of the National Health and Health Commission, Founding President Xiaohong Chen from the China Medical and Health Culture Association, and other government and organization leaders, as well as nearly 100 hospital executives and medical professionals attended the conference. It was live broadcasted on multiple channels and platforms such as Powerful Learning, Popular Science China, People's Daily, CCTV, Guangming.com, Toutiao, Sina Weibo, Baidu Health, and etc., 4.6 million people watch online.