The research group of Professor Yehong Zhuo and Professor Wenru Su revealed the mechanism of MSC-derived exosomes enriched with mir-21a-5p in protection of retinal I/R injury
Resource: State Key Laboratory of Ophthalmology
Proofread by: Jiawei Wang
Edited by: Xianjing Wei
Reviewed by: Xiaoling Liang

Neuroblinding eye diseases are irreversibility and its high blinding rate poses serious impact on patients, families and society. Many factors such as ischemia, hypoxia and inflammation cause irreversible damage of retinal nerve. Although a large number of studies have attempted to find effective treatments, potential neuroprotective drugs have not achieved satisfactory results in phase II / III clinical trials and cannot prevent or reverse nerve injury. Up to now, still lacking of safe and effective treatment, it is urgent to seek new therapies.
On 25th March, Professor Yehong Zhuo, Professor Wenru Su and their teams published a research article titled "TNF-α stimulation enhances the neuroprotective effects of gingival MSCs derived exosomes in retinal ischemia-reperfusion injury via the MEG3/miR-21a-5p axis" in Biomaterials. In this study, they found that exosomes derived from mesenchymal stromal cells (MSC) were rich in mir-21a-5p that protected retinal nerve cells from ischemia-reperfusion (I/R) injury for the first time. In addition, TNF-α pretreated MSC could enhance the neuroprotective effect of exosomes, providing a new therapeutic strategy for the intervention of retinal nerve cells injury, and proposing a scheme to enhance the therapeutic effect of exosomes.
MSC are widely distributed pluripotent stem cells with immunological regulation, microenvironmental regulation and post-injury repair. Previous studies have proved that MSC can effectively treat a variety of diseases, but the potential safety problems of MSC treatment still hold back its widespread clinical use.
MSC plays a role in immune regulation through paracrine mechanism, in which MSC-derived exosomes, as a subcellular component of MSC secretion, can play a biological effect as a paracrine factor of MSC, providing a new approach for the further realization of cell-free therapy. Exosomes are released into membranous vesicles in the extracellular matrix by fusion of intracellular polyvesicles with the cell membrane, with a diameter of 30-150nm. It contains protein, mRNA, miRNA and other substances, and is widely involved in the communication between cells. In this research, gingival MSC -derived exosomes (G-exos) was injected intravitreously for the treatment of retinal ganglion cell (RGC) injury. It was found that the RGC could be protected by regulating the immune inflammatory response. And for the first time, this research also revealed that TNF-α pre-stimulation enhanced the protective effect of MSC-derived G-exos (TG-exos).
Fig 1. TNF-α-stimulated GMSC-derived exosomes reduce RGC apoptosis induced by the IRI model in vivo.
Both in vivo and vitro, it was discovered that miRNA-21a-5P enriched in G-exos could protect RGC damage and inhibit microglia activation.
Fig2. miR-21-5p in exosomes protected RGCs and inhibit microglial activation following IRI injury.
Furthermore, the researchers predicted and verified the upstream MEG3 and downstream target protein PDCD4 of miRNA-21a-5P. The MEG3/miRNA-21a-5P /PDCD4 signal axis mediated the neuroprotective effect of TG-exos in retinal injury through the determination of dual luciferase reporter gene and functional loss studies.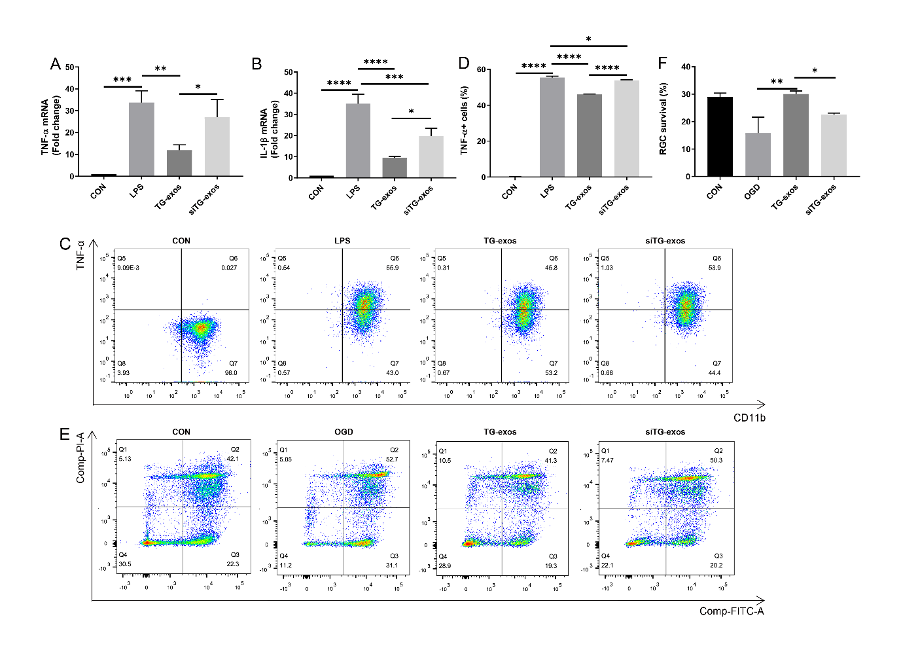 Fig3. Exosomal miR-21-5p treatment protected retina cells from inflammation and cell death.
In conclusion, this study reported that MSC-derived exosomes enriched with mir-21a-5p can protect retinal nerve cells from I/R injury, and that TNF-α pretreated stem cells can enhance the neuroprotective effect of exosomes. It provides a new therapeutic direction for the treatment of retinal nerve injury, and supplies experimental basis for the clinical application and transformation of MSC-derived exosomes in neuroblinding eye diseases.
This work was also supported by the National Key R&D Program of China (grant nos. 2020YFA0112701, 2017YFA0105804), and the National Natural Science Foundation of China (NSFC; grant nos.81870658, 81700858). Dr. Ziyu Yu is the first author of this paper, Professor Yehong Zhuo, Professor Wenru Su and Dr. Yingting Zhu are the corresponding authors of this paper.
Link to the paper: https://www.sciencedirect.com/science/article/pii/S0142961222001235#ack0010