2022 The 5th Lingnan Neuro-Ophthalmology Forum Successfully Held
Resource: State Key Laboratory of Ophthalmology
Proofread by: Jiawei Wang
Edited by: Xianjing Wei
Reviewed by: Xiaoling Liang

The 5th Lingnan Neuro-Ophthalmology Forum and the 4th Continuing Neuro-Ophthalmology Education Class of Zhongshan Ophthalmology Center (ZOC) was held on June 25th. The establishment meeting of the first " Neuro-Ophthalmologist Branch of Guangzhou Physicians Association " in Lingnan area was also held in the same period. Nearly 30 renowned experts and outstanding young Ophthalmologists from China and abroad, focused on the frontier of clinical and basic research on common Neuro-Ophthalmology diseases. The forum attracted more than 10,000 attendants online and was reported by more than 10 media, including Guangming Daily and Guangzhou TV Station.


The opening ceremony of the conference was presided by Professor Hui Yang of ZOC. Dan Xia, Secretary of Party Committee of ZOC and Professor Xiaofeng Lin, Vice President of ZOC gave warm welcome remarks during the opening ceremony. With the support of Professor Shihui Wei, President of Neuro-Ophthalmology Branch of the Chinese Medical Association and President of Neuro-Ophthalmologist of the Chinese Medical Doctor Association and Professor Xibao Zhang, President of Guangzhou Medical Doctor Association, the Neuro-Ophthalmology Branch of Guangzhou Medical Doctor Association was officially established. Professor Hui Yang and Professor Xiaolai Zhou from ZOC was elected as the President and member of the Standing Committee of the Branch, respectively.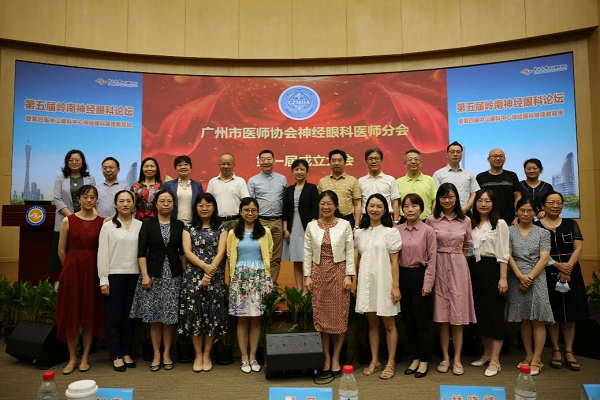 Establishment of the First Committee of Neuro-ophthalmology Branch of Guangzhou Medical Doctor Association

The forum was divided into seven units, covering up-to-date basic and clinical researches of optic neuritis, ischemic optic neuropathy, hereditary optic neuropathy, and Neuro-Ophthalmology related imaging. This forum provided a high-quality international academic platform for exchanging thoughts of the latest basic and clinical research progress on the diagnosis and treatment of Neuro-ophthalmology-related diseases.