The Team of Ophthalmic Engineering Research Center Won the Second Prize of China Medical Device Design & Entrepreneurship Competition
Resource: Ophthalmic Engineering Research Center
Proofread by: Jiawei Wang
Edited by: Xianjing Wei
Reviewed by: Xiaoling Liang


On August 15th 2022, the Final of the 5th China Medical Device Design & Entrepreneurship Competition in conjunction with the Guangdong-Hong Kong-Macao Greater Bay Area Medical Device Design & Entrepreneurship Competition were successfully held in Nansha District, Guangzhou, China. After a series of fierce competitions, the project "Portable boom-type UHR-OCT with integrated imaging probe for pediatric retinal imaging" stood out from more than 100 teams from other enterprises, universities and research institutes. The project is led by Professor Jin Yuan and Peng Xiao's team from the Ophthalmic Engineering Research Center, Zhongshan Ophthalmic Center (ZOC), Sun Yat-sen University. After the jury's deliberation on the innovation, technical advantages, clinical prospects, social value and market value of the projects, ZOC's team finally ranked the third and won the second prize in the final of the start-up group through the on-site show.

This project was driven by the clinical needs of high-speed and high-resolution 3D imaging and diagnosis of pediatric fundus diseases. The developers of Ophthalmic Engineering Research Center provided the solution of portable boom-type OCT systems, including handheld imaging probe, system integration, data processing and image analysis, with the technological breakthroughs in the key performance of OCT, such as axial imaging resolution, imaging range, acquisition speed and system stability. This is the first domestic-developed clinical ergonomic handheld OCT system for pediatric fundus imaging. Cooperated with Professor Xiaoyan Ding from the pediatric ophthalmic disease platform of ZOC, a series of clinical experiments and evaluations have been conducted on pediatric patients in accordance with the tenets of the Declaration of Helsinki. The experimental results indicated that the portable boom-type OCT system could achieve high-efficiency and high-precision 3D retinal imaging in both sedated and awoke pediatric patients, providing more comprehensive information of 3D retinal structures for pediatric ophthalmic examination, which could assist clinicians to achieve advances in the early diagnosis, precise treatment and in-depth etiology and pathology research of pediatric retinal diseases. The system expands the application scenarios of traditional OCT, especially for premature newborns and infants. It is also expected to become a new tool for precision medicine and clinical research related with rehabilitation, anesthesiology, neurology, cardiovascular and cerebrovascular diseases, and even pets' eye disease diagnosis, which shows broad clinical application prospects and market value.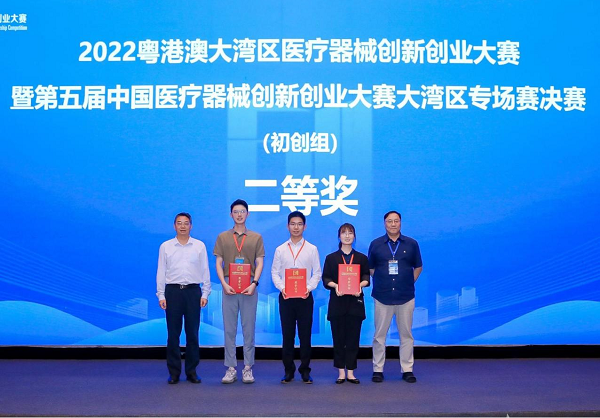 Sponsored by China Ministry of Science and Technology, China Biotechnology Development Center and the Strategic Alliance for Technological Innovation of Medical Device Industry,the Competition is at national level to stimulate the innovation vitality of scientific researchers and to connect production, education, innovation, clinical application and capital in all aspects of the medical device industry. It encourages a high-performance medical device industry innovation ecosystem running through the innovation, industry and capital chain, so as to promote the sustainable innovation and development of China's medical device industry.

The competition has been held for five years. Since 2018, the team from the Ophthalmic Engineering Research Center of Zhongshan Ophthalmic Center has participated in the competition four times. The self-developed ophthalmic multi-modal imaging system and high-resolution full-field optical coherence tomography system has won the second prize (2020) and the first prize (2021) respectively. These innovative ophthalmic imaging technologies have been evaluated for clinical applications in many medical institutions, and under technology transformation and evaluation with medical device companies, which is of great significance for promoting the key technologies of ophthalmic imaging equipment in China.